Implementing the Incredible Beginnings® program in Rhode Island: Prevention & early intervention in early childhood education centers and preschools
Our incredible Mentor in Rhode Island, Stephanie Shepard Umaschi, PhD, Asst. Professor Department of Psychiatry and Human Behavior, Brown Medical School, and Director at Bradley Hospital Center for Evidence Based Practice has recently shared with us an update on the implementation of the Incredible Beginnings® program in Rhode Island.
Incredible Beginnings® (IB) was added to the suite of Incredible Years programs offered in Rhode Island in 2017, with the goal of providing professional development that would help to improve the quality of early childhood education in Rhode Island.
Between 2017 and 2019, 80 early childhood educators received the Incredible Beginnings® program training. Pre- post- results as measured by the Teacher/Childcare Provider Checklist were very positive.
Teacher reports of satisfaction with the Incredible Beginnings® program were very strong, as well (range = 1: not satisfied to 7: highly satisfied).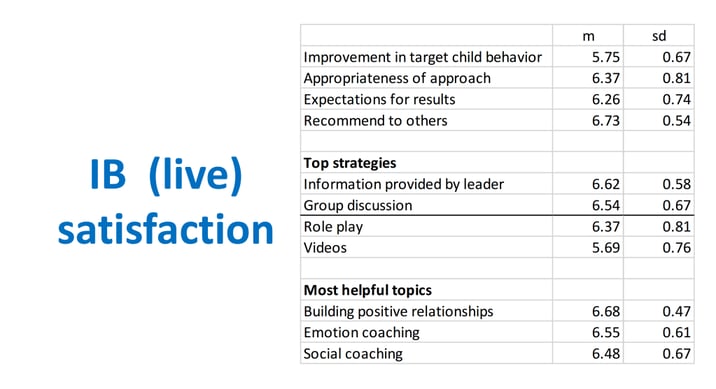 When covid hit, the team switched to providing the Incredible Beginnings® program and TCM programs online, and were able to provide 43 early childhood educators with virtual Incredible Beginnings® program training.
Providing the program online offered some benefits for the teachers, including being able to offer the IB classes in the evenings or Saturday mornings, eliminating the need for substitutes & reducing barriers to attendance, and making it easier to reach teachers throughout Rhode Island.
Teachers reported finding virtual Incredible Beginnings® classes convenient and appreciated the opportunity to connect with other teachers, but did miss getting together in-person. Teachers found role-plays more difficult and uncomfortable to do in the online format, but really liked using the breakout rooms in Zoom.
Cheers to Stephanie Shepard Umaschi and the team of Incredible Years program providers in Rhode Island for your commitment to your community!
Visit our website to learn more about the Incredible Beginnings® program.
Join us for Incredible Beginnings Group Leader training – online this October!