Incredible Years® Building Blocks For Head Start (Part 2)
Benefits of Teacher Training and the Child Dinosaur Curriculum for
Promoting Children's Social and Emotional Development
Incredible Years® in Head Start (Part 2)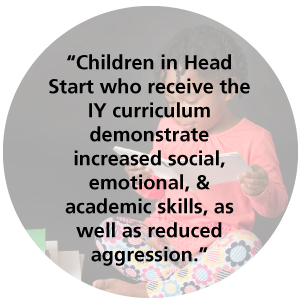 In our previous post, we discussed how the Incredible Years® (IY) Parent and Teacher Programs have been researched and proven effective in Head Start settings. The IY Child programs have also been studied in a Head Start environment (in conjunction with IY Teacher program), in both a larger classroom prevention setting as well as a smaller treatment group setting for children.
The studies illustrate how children in head start who receive the IY curriculum demonstrate increased social, emotional, and academic skills, as well as reduced aggression. By implementing interlocking programs for parents, teachers AND children, this allows for greater results and consistency for everyone involved. Read on to see how IY Programs have been successful in head start classrooms as well as with groups of children with ADHD and ODD.
Studies: Effects of IY Classroom Management Program for Head Start Teachers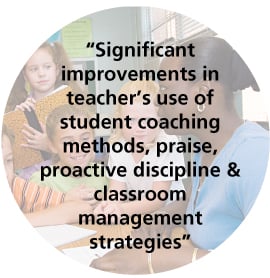 Over the past 20 years, a half dozen randomized control group studies in the US, Wales and Ireland have shown that using the Incredible Years (IY) Teacher Classroom Management Training Series in Head Start or Sure Start (in United Kingdom) results in significant improvements in teacher's use of student coaching methods, praise, proactive discipline and classroom management strategies. In addition, intervention classrooms (where teachers received IY training) showed increased student positive interactions and cooperation with teachers and peers, school readiness and engagement with school activities compared with control classroom students. Additionally, intervention classrooms had significantly reduced peer aggression than control classrooms.
Webster-Stratton, C., M.J. Reid, and M. Hammond, Preventing conduct problems, promoting social competence: A parent and teacher training partnership in Head Start. Journal of Clinical Child Psychology, 2001. 30(3): p. 283-302.
Hutchings, J., et al., Early results from developing and researching the Webster-Stratton Incredible Years Teacher Classroom Management Training Programme in North West Wales. Journal of Children's Services, 2007. 2(3): p. 15-26.
Study: Effects of Combining the IY Teacher Classroom Management Program with the Child Dinosaur Social and Emotional Curriculum In Head Start Classrooms
This study was designed to assess the effects of the Teacher Classroom Management plus the Classroom Dinosaur Social and Emotional Curriculum (Dinosaur School) for economically disadvantaged populations. Head Start, kindergarten and first grade teachers were selected because of their high rates of families living in poverty. Matched pairs of schools were randomly assigned to intervention or control conditions. In the intervention classrooms, teachers offered the Dinosaur School curriculum in bi-weekly lessons throughout the year. They sent home weekly "dinosaur" home activities to encourage parents' involvement. Children and teachers were observed in the classroom by "blind" observers at the beginning and end of the school year. Results reported from multilevel models of 153 teachers and 1,768 students indicated that teachers used more positive classroom management strategies and their students showed more social competence, emotional self-regulation, school readiness skills and reduced conduct problems compared with control students. Satisfaction of the program was very high regardless of the grade levels.
Webster-Stratton, C. and M.J. Reid, Strengthening social and emotional competence in socioeconomically disadvantaged young children: Preschool and kindergarten school-based curricula, in Social competence of young children: Risk, disability, and intervention, W.H. Brown, S.L. Odom, and S.R. McConnell, Editors. 2008, Paul H. Brookes Publishing Co.: Baltimore. p. 185-203.
Webster-Stratton, C., M.J. Reid, and M. Stoolmiller, Preventing conduct problems and improving school readiness: Evaluation of the Incredible Years Teacher and Child Training Programs in high-risk schools. Journal of Child Psychology and Psychiatry 2008. 49(5): p. 471-488.
Webster-Stratton, C. and K.C. Herman, Disseminating Incredible Years Series Early Intervention Programs: Integrating and Sustaining Services Between School and Home Psychology in Schools 2010. 47(1): p. 36-54.
Studies: Effects of the Small Group Treatment Dinosaur Curriculum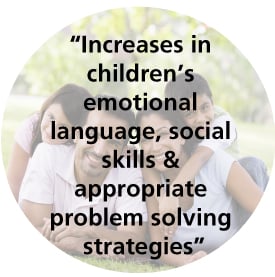 In addition to the evaluation of the Classroom Dinosaur program with a selected population of socioeconomically disadvantaged populations, four randomized trials have been conducted with children diagnosed with Oppositional Defiant Disorder and ADHD, using the IY Small Group Dinosaur Curriculum.

These studies have shown increases in children's emotional language, social skills and appropriate problem solving strategies with peers as well as reductions in conduct problems at home and children.
Webster-Stratton, C., M.J. Reid, and T.P. Beauchaine, Combining Parent and Child Training for Young Children with ADHD. Journal of Clinical Child and Adolescent Psychology, 2011. 40(2): p. 1-13.
Webster-Stratton, C., M.J. Reid, and M. Hammond, Treating children with early-onset conduct problems: Intervention outcomes for parent, child, and teacher training. Journal of Clinical Child and Adolescent Psychology, 2004. 33(1): p. 105-124.
Webster-Stratton, C. and M. Hammond, Treating children with early-onset conduct problems: A comparison of child and parent training interventions. Journal of Consulting and Clinical Psychology, 1997. 65(1): p. 93-109.
Building Blocks for Promoting Children's Cognitive, Social and Emotional Development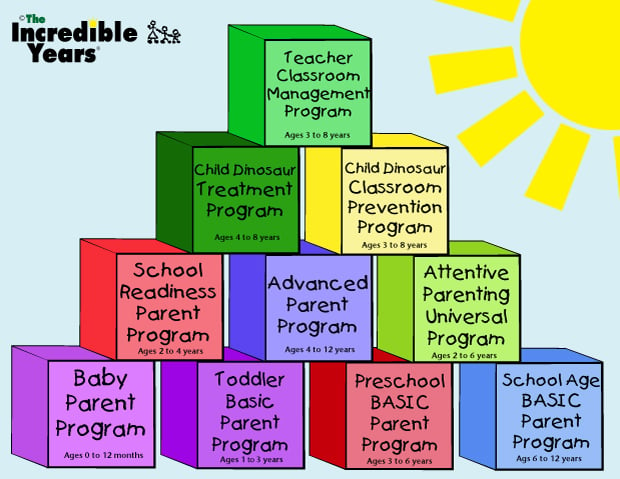 Parents and teachers starting early to work together to build a strong foundation of social and emotional development in children is the most effective way to achieve optimal academic growth and school achievement and reduce delinquency and substance abuse.
For group leader reflections regarding using the IY programs with Head Start, view this video!